Damianista's note: Here is a piece I recently wrote for my favorite neighborhood blog's sister blog East Side Feed.  Hope you enjoy this Billions tour of the Upper East Side and return for more neighborhood tours of our favorite show.
I am an immigrant. I moved to the US for my graduate study in the late 1990s. My husband and I, having finished our PhDs, moved to New York in 2001, only weeks before September 11, for jobs. The city has since given me so much and defined me as an individual: a foodie, a film buff, a theatre lover, a feminist, a wine snob, a runner and much more. Even though we moved to the south five years later for new jobs, we could not give up on New York. We still have an apartment on the Upper West Side and enjoy the city as part-time New Yorkers.

I am also a blogger managing a fan blog and a fan site dedicated to my favorite actor, Damian Lewis. And Billions is my dream show, not only because my favorite actor is in it, but also because New York – from its landmark buildings to its parks, Michelin-starred restaurants and yummy hole-in-the walls – appears as a cast member in the show! As someone who feels home only in The City That Never Sleeps, I particularly love that Billions is taking over New York, the big film studio that it is, and filming all over the place: from Manhattan to Queens to Brooklyn to The Bronx to Long Island and to the northern suburbs.
As a Billions and NYC enthusiast, I've posted location and dining guides for every Billions season. And I put together "A Billions Tour of the Upper West Side" for my favorite neighborhood blog a few weeks ago as a loving tribute to my beloved UWS. It was so much fun that when I was kindly asked whether I would also consider writing a "Billions Tour of the Upper East Side" I immediately said "yes!"
Now, for the Billions fans among you: I list the UES filming locations in chronological order, and to refresh your memory, I've written briefly about each scene filmed at each location. And if you have not watched the show yet, it's time to catch up. Note that the rest of Season 5 (they had to stop filming in March 2020 due to Covid) is coming to Showtime in September.
https://twitter.com/SHO_Billions/status/1403064895092973568
Why watch Billions? Well, it is hands down the smartest show on TV at the moment. And in case this is not a good enough reason to watch for the Upper East Siders, I should point out that Chuck Rhoades (Paul Giamatti), one of the two lead characters in Billions, grew up on the Upper East Side.
ENJOY!
Season 1, Episode 1: The Pilot
1010 Fifth Avenue (at 82nd Street). The first ever UES location we spot in Billions is certainly a very nice address on the Museum Mile with previous apartment sales averaging around $7,000,000! While Chuck Rhoades, Jr now lives with his wife and kids in a Brooklyn Heights brownstone, he grew up in this pre-war building where his dad Chuck Rhoades, Sr still resides. Oh yeah our US attorney is as blue blood as one can get in NYC.
Season 1, Episode 12: The Conversation
The Explorers Club, 46 East 70th Street. The Explorers Club appears in two different scenes in Season 1 Finale. Firstly, Axe and Wags have one of their "capital raise" meetings in the club's library. And then the club's front desk masquerades as Yale Club of NYC where Chuck checks in after Wendy kicks his ass out of their off promenade brownstone!
Henry P. Davison House, 690 Park Avenue (at 69th Street). The building Axe and Wags leave in the season finale is the Henry P Davison House, which houses the Italian Consulate of New York. Oh, and this is also the day I caught my two favorite Billions boys on set. While Damian called me a "spy" for catching them, who caught who is still up for debate. You can read my story here!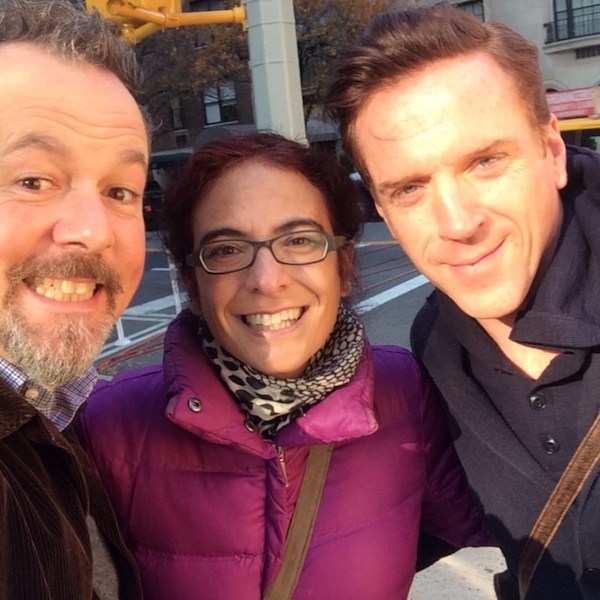 Season 2, Episode 3: Optimal Play
Three Guys, 960 Madison Avenue (between 75th and 76th Streets). Axe and Lawrence Boyd compare Chuck and Stalin over lunch at this classic diner.
Season 2, Episode 4: The Oath
Vaucluse, 100 East 63rd Street. Mark Cuban tells Axe to stop f***ing with the US attorney at chef Michael White's (now sadly closed) stylish brasserie.
Lotos Club, 5 East 66th Street. One of the oldest literary clubs in the United States, Lotos Club gets its name from the poem "The Lotos-Eaters" by Lord Tennyson, which was very popular at the time a group of young writers, journalists and critics founded the club.
Chuck meets Lawrence Boyd in the Lotos Club Library to start the negotiations with him. Boyd is happy to sacrifice a few mid-level executives for the US Attorney's investigation into his company Spartan Ives to be over.
Season 3, Episode 4: Hell of a Ride
Donohue's Steakhouse, 845 Lexington Avenue (between 64th and 65th Streets). A homey place for steaks and other straightforward classics, Donohue's does not have a website but the New York Times has a loving piece about it.
In Billions, Donohue's is New York state politicians' favorite meeting place. New York politics heavy weights Black Jack Foley and Joe Scolari meet both Rhoadeses, Senior and Junior, at Donohue's.
Season 3, Episode 5: Flaw in the Death Star
Daniel, 60 East 65th Street. Axe chooses the legendary chef Daniel Boulud's flagship restaurant to welcome Spyros into the family! And while Chef Boulud makes an exception for Axe, their usual practice is to provide a loaner to men that show up without jackets! I know it because my husband showed up there once without a jacket on a warm summer evening! It was hilarious that the dining room was full of men wearing the exact same jacket!
Next to making a wonderful cameo on the show, it turns out Chef Boulud prepared some special food for the cast and the show creators at the end of the shoot which they had at a private room above his kitchen. And Damian's review of the food obviously has as much weight as Yelp!
Remember that terrine…? https://t.co/3m3h2hv3Uv

— Damian Lewis (@lewis_damian) April 24, 2018
Season 3, Episode 8: All the Wilburys
JoJo, 160 East 64th Street. Jean-Georges Vongerichten is not only a legendary NYC chef but he also happens to be my husband's food god. We have been to his restaurants so many times and here is our mini collection of the chef's cooking books!
JoJo, named after Jean-Georges' childhood nickname, is the first restaurant the chef opened in NYC in 1991 and had a big impact on the city's food scene especially in its early years.
In Billions, as he has a pissing contest with Taylor about who will stay longer in the office, Axe sends his secretary Helena to JoJo to have dinner with his boys. He tells her to order all the desserts so kids would not complain about dad not being there. When will Bobby learn all the desserts in the world can't buy a dad's love? Sigh.
Season 3, Episode 11: Kompenso
The Regency Bar and Grill, 540 Park Avenue, Loews Regency Hotel. It turns out Axe pays an annual visit to this restaurant where "power breakfast" was born to see his former boss and remind him the mistake he made when he did not bonus Axe right.
Here is Damian Lewis with owners Jonathan and Lizzie Tisch who also make a cameo in the episode.
Season 3, Episode 12: Elmsley Count
114 East 95th Street. Residents on the block – beware! The Russian Oligarch Grigor Andolov does not only think a brownstone is not home without quilts on the bed and healing crystals in every window but he also thinks it does not feel home unless he owns the entire block! Here is Axe and Hall leaving Andolov's house talking about his offer about pest (aka Taylor Mason!) control!
Season 4, Episode 1: Chucky Rhoades's Greatest Game
Edith Fabbri House, 7 East 95th Street. The Edith Fabbri House is an Italian Renaissance revival style townhouse. A NYC Designated Landmark since 1974, its highlight is the library with historic panels from the Palazzo Ducale di Urbino in Italy.
Deeded to the Episcopal Church in 1949, the house now provides a unique setting for those who are seeking spiritual renewal under the name of "The House of the Redeemer." The chapel is open to the public for prayer and meditation.
The house passes off as The Embassy of Qadir, where they hold Wags captive, in Billions Season 4 premiere. And it is so much fun to see how the production adapts the location according to its needs. Assuming they filmed Axe and Andolov's meeting in the library, it is not just that they redecorated the room but they also made some movie magic to make the library look more like a Middle Eastern style room.
Read the rest of the post here.